Collaborations
National Allergy Centre of Excellence (NACE)
The National Allergy Centre of Excellence, hosted at the Murdoch Children's Research Institute (MCRI), is Australia's peak allergy research body. It will develop hubs for allergy research, repository and discovery, evidence and translation, and training and innovation to ensure Australia remains at the forefront of evidence-based management of allergic disease. www.nace.org.au
The National Allergy Council (NAC) and the National Allergy Centre of Excellence (NACE) will collaborate to transform allergy research and clinical care to help save lives, improve health and reduce the burden of allergic disease.
The NAC will continue to implement and expand the National Allergy Strategy as a partnership between the Australasian Society of Clinical Immunology and Allergy (ASCIA) and Allergy & Anaphylaxis Australia (A&AA). The Centre for Food & Allergy Research, hosted at MCRI, has expanded to become the NACE, to generate and synthesise the evidence-base that underpins the activities of the NAC.
Building upon CFAR, which has utilised 10 years of NHMRC CRE funding to establish Australia as a global leader in food allergy research, the NACE leads streams for each allergy discipline – drug, food, insect and respiratory. The Streams invite allergy researchers to connect, collaborate and help revolutionise how allergy research is conducted and translated across Australia. Membership is free and open to anyone from the Australian and Zealand research community. Join NACE.
For individuals and families with allergic disease, the NACE National Allergy Studies Directory lists drug, food, insect and respiratory allergy research underway across Australia, currently accepting participants. The NACE will also oversee a Clinical Trials Network, a National Allergy Repository, living systematic reviews and training the next generation of allergy experts.
The NAC and NACE, with support from the country's peak allergy organisations encompassing clinicians, researchers, policy-makers, patients and carers, look forward to working together to ensure the rapid, efficient translation of the latest research into practice.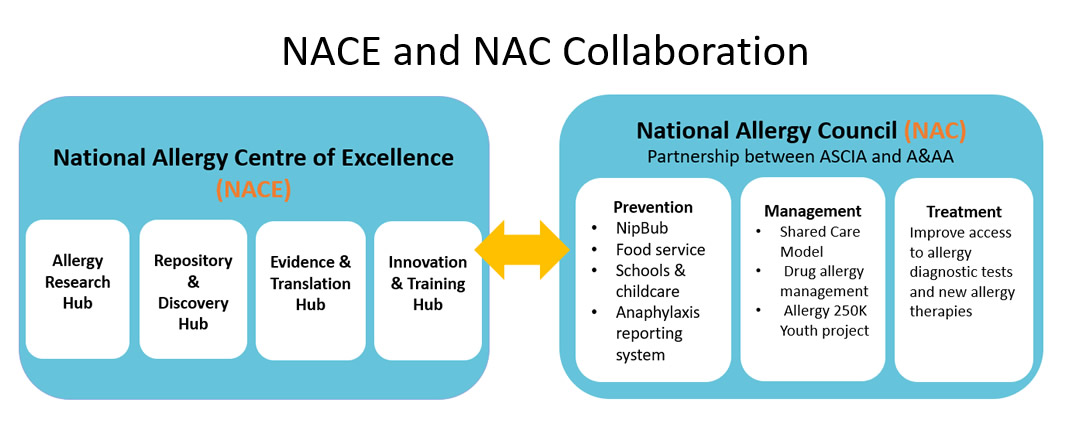 Content updated August 2022