August 2022
Food service project
All about Allergens for Residential Care food allergen management training course now available
The National Allergy Strategy has just released a new food allergen management course for staff working with vulnerable people being cared for in aged care and other residential care, transitional care, respite care, rehabilitation care including mental health, disability, drug and alcohol, quarantine facilities and services, correctional and detention facilities, hospices and overnight, short and long stay facilities.
There are unique challenges when providing food to people with food allergy in these settings. Residents who may be incapable of, or have difficulty with communicating about their food allergy, have less control in preparing their own food. However, some residents are transient, having greater autonomy and mobility, which may put others who are less able, at greater risk. Staff preparing food and supervising mealtimes in these settings need practical training and best-practice safety processes.
Thank you to our project co-leads Sally Voukelatos and Ingrid Roche and the food service working group and stakeholders who have worked with us to develop this course. You can view the courses available from www.foodallergytraining.org.au. Each course has a description of the modules and learning outcomes and who the course is suitable for.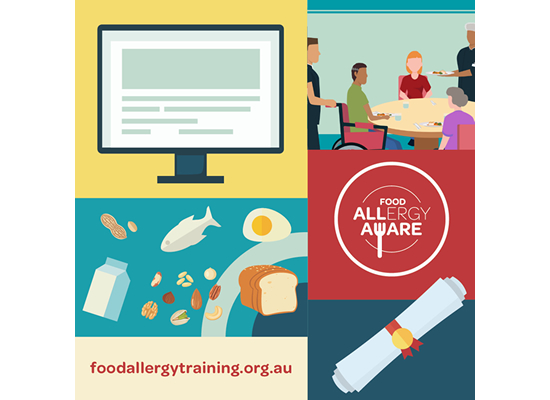 The Residential Care course showcases our new animation 'How to complete a standardised recipe' and updated 'How to complete a food allergen menu matrix'. These are available to watch on the All about Allergens Resource hub.

Allergy 250K youth project
At the beginning of July, we held the first Allergy 250K Young Adult camp at YMCA Sydney Olympic Park. Our peer mentors, young adults with severe allergy, volunteers and staff were finally able to reconnect with each other face to face. It was a wet weekend in Sydney, so we weren't able to light a camp fire, but we had fun with some indoor activities including team building activities, karaoke and bowling and plenty of warm winter food. A special thank you to health professionals Maria Said, Merryn Netting, Melanie Wong and Carolina Valerio for spending the weekend with us and also Wendy Birks who joined us on Sunday.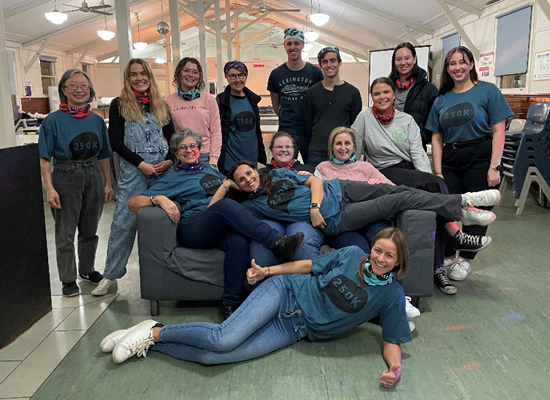 Some of the peer mentors will be joining us for our next camp for school aged teens being held in Adelaide from 10-11 September. Our final camp for the year will be held in Perth on 3-4 December 2022 and our first camp for 2023 will be in Queensland.

Updated 250K websites!
The Allergy 250K school aged teen and young adult websites have been released! We have new sections on the websites about insect and tick allergy, managing your health and how to position someone having anaphylaxis.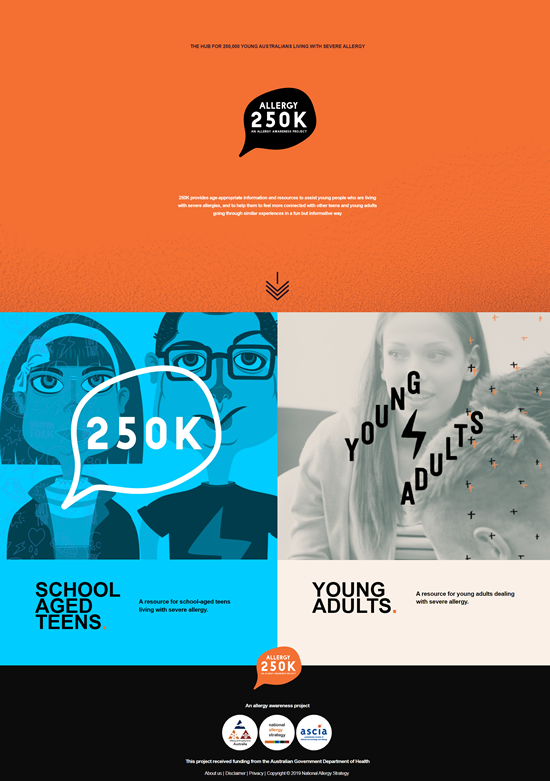 School and children's education and care (CEC) project
We are coming to the end of a successful parent education series that we have been running in partnership with Allergy & Anaphylaxis Australia. The webinars aim to support parents of children with food allergy in school or children's education and care (CEC). The webinars also talk about areas of risk and how the National Allergy Strategy's Best Practice Guidelines for the prevention and management of anaphylaxis support their child.
The webinar recordings are available from the Allergy Aware website: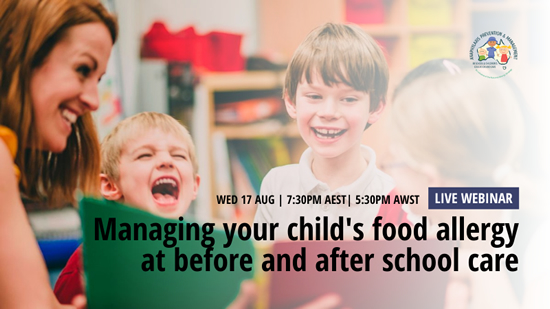 Nip allergies in the Bub
The National Allergy Strategy has collaborated with WA Health to translate the How to introduce the common allergy causing foods to your baby video into the following languages – Burmese, Hakha Chin, Hazaragi and Karen.
It is great to have this useful and popular resource more accessible.
Click here to view the translated videos.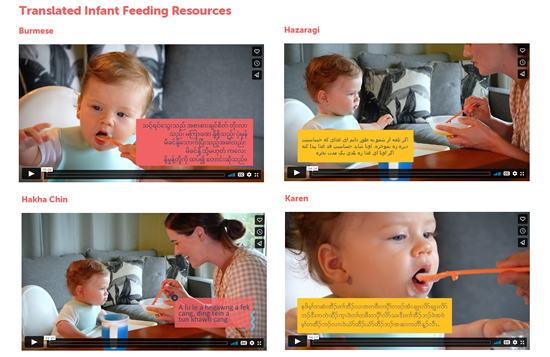 Other news
Dietitians Australia conference
We will be presenting at the Dietitians Australia conference in Adelaide from 14-16 August 2022. Please join us for the presentations if you are attending the conference.
ASCIA conference
We look forward to sharing information about our projects at the upcoming ASCIA 2022 conference being held in Melbourne from the 30th August to Friday 2nd September.

European Academy of Allergy, Asthma and Immunology (EAACI) conference
We presented four posters at the EAACI conference held in July 2022. The posters are available from the National Allergy Strategy website.
Pharmaceutical Society of Australia conference
It was great to have an opportunity to engage with pharmacists at the recent PSA22 conference held in Sydney. The National Allergy Strategy shared a stand with Allergy & Anaphylaxis Australia and Dr Katie Frith, ASCIA Anaphylaxis Committee Chair, gave a presentation about infant feeding and anaphylaxis.
The National Allergy Strategy looks forward to continuing to work with the PSA and other key stakeholder organisations when we embark on our shared care model project later this year.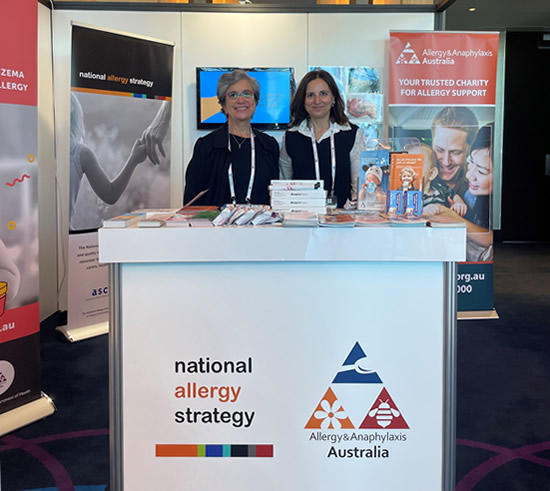 FREE posters and bookmarks
The following National Allergy Strategy resources are available free of charge (including free postage) from the Allergy & Anaphylaxis Australia online shop:
Nip allergies in the Bub bookmarks
Nip allergies in the Bub posters
250K bookmarks
250K posters
All about Allergens online training bookmarks
The Usual Suspects poster (developed with the NSW Food Authority and Allergy & Anaphylaxis Australia)
Best practice guidelines for schools and CEC bookmarks


Stay informed about the National Allergy Strategy
Follow us on Facebook, LinkedIn, Instagram and Twitter to stay informed or visit the National Allergy Strategy website: nationalallergystrategy.org.au