NAC Newsletter November 2022
Allergy 250K camps
The Perth camp is almost upon us, and we are looking forward to engaging with the school aged teens and peer mentors during the first weekend of December. Follow us on social media if you would like to see what we get up to during the camp.
The next camp will be in Queensland in 2023. We are yet to confirm a site and date and will provide more information early in the New Year.
These camps provide young people (aged 10-18) with the opportunity to meet other teens living with severe allergy while experiencing the excitement and fun of camp in a safe and supportive environment. The younger camp participants really enjoy talking with the Allergy 250K peer mentors and this is a key component of the camp. Click here to see highlights from previous camps.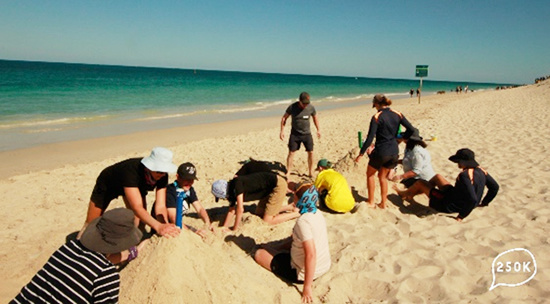 Food service project
Ingrid Roche, Senior Project Officer with the National Allergy Council will present at the Institute of Hospitality in HealthCare (IHHC) conference in Brisbane 28-30 November. Ingrid will provide delegates with information about our All about Allergens for Hospitals courses as well as our new All about Allergens for Residential Care Course. The IHHC have been an important stakeholder in the development of these resources, and we look forward to disseminating this information to their conference delegates and members.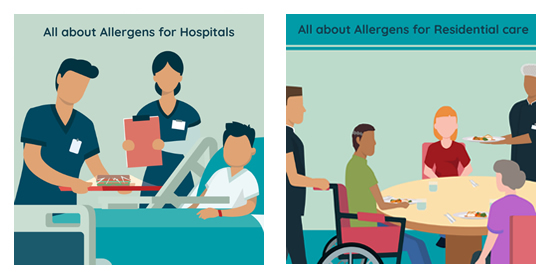 Nip allergies in the Bub
Coming soon!
New translated eczema infographics and videos will soon be available from the Nip allergies in the Bub website. These resources have been available in English for some time and are useful resources for parents. Thanks to a grant from the Perth Children's Hospital Foundation, we are able to have these resources translated into several languages.
Making sure our allergy prevention resources are accessible to all is important to us. We will continue to improve accessibility of our eczema and infant feeding resources.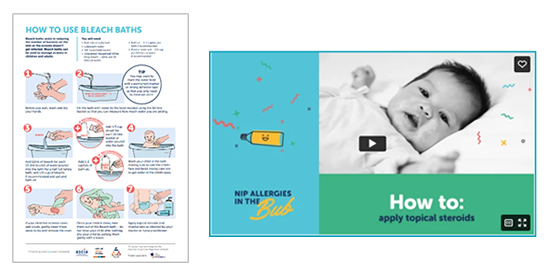 Shared care model project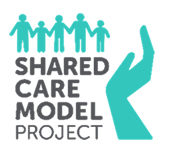 The shared care model project aims to improve access to quality care, particularly for people living in rural and remote areas. The project is multifaceted and will address education and training, scope of practice, standards of care, and interdisciplinary teamwork and care. The National Allergy Council will be implementing the shared care model project working alongside ASCIA, Allergy & Anaphylaxis Australia and the National Allergy Centre of Excellence.
This project is being led by Dr Katie Frith (ASCIA representative) and Ms Maria Said AM (A&AA representative). We are currently establishing our working groups to help guide the different components of the project and the extensive stakeholder consultations that will take place in the first half of 2023. To stay informed, follow us on social media or register your interest This email address is being protected from spambots. You need JavaScript enabled to view it..
We will be communicating about the shared care model project through a Shared Care Model Bulletin. To subscribe, email This email address is being protected from spambots. You need JavaScript enabled to view it. with the subject SUBSCRIBE.

National Allergy Centre of Excellence Postgraduate Research Scholarships available
The NACE Postgraduate Research Scholarship program is ready to train and mentor Australia's next generation of allergy experts. Allergy research is crucial to improving the health and quality of life of Australians with allergic diseases.
If you, or someone you know, want to be part of the next generation of allergy experts, here's how:
Six Australia-wide PhD scholarships in allergy research are available through the National Allergy Centre of Excellence
Three years full-time or six years part-time
$28,859 to $42,967 PhD stipend equivalent to NHMRC rates
Focus on a topic relating to allergy prevention, management or treatment
Align with drug, food, insect or respiratory allergic disease
Conduct a systematic review as part of your thesis
Exceptional Masters candidates with an interest in allergic disease will also be considered
Start Semester 1, 2023
Allergy PhD expressions of interest close on Wednesday 30 November 2022. Full details at https://www.nace.org.au/research/phd-opportunities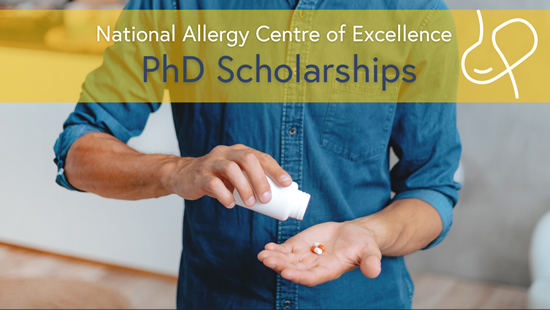 FREE posters and bookmarks
The following National Allergy Council resources are available free of charge (including free postage) from the Allergy & Anaphylaxis Australia online shop:
National Allergy Council bookmarks - NEW
Nip allergies in the Bub bookmarks
Nip allergies in the Bub posters
Allergy 250K bookmarks
Allergy 250K posters
All about Allergens online training bookmarks
The Usual Suspects poster (developed with the NSW Food Authority and Allergy & Anaphylaxis Australia)
Best practice guidelines for schools and CEC bookmarks


Stay up to date with National Allergy Council projects
We are currently doing the background work for many of our projects. We will be engaging with key stakeholders early in 2023 and look forward to progressing our important work with their support.
The National Allergy Council Advisory Group had their first meeting this month. The Advisory Group will provide strategic direction and guide the implementation of activities and priorities. This will enable us to establish project working groups and determine project timelines for engagement with our stakeholders.
Stay informed by remaining subscribed to our newsletters and follow us on social media via Facebook, LinkedIn, Instagram or Twitter.